Te Waka
Our mission is to help organisations realise their potential while uplifting indigenous knowledge systems
OUR STORY
Nau mai, haere mai, afio mai and welcome to Flying Geese, a V-formation of leaders and facilitators who help organisations navigate their greatest challenges. But more than that we are a family, which is what happens when people who are united by vision and values come together.
We are passionate about creating a world where people and organisations understand themselves as part of a wider environment. To help them see opportunity in times of adversity, as our patron navigator Hoturoa Barclay-Kerr says. If there is one thing our clients leave with - it's clarity. They know their story. They know where they want to go and what to do next.
Flying Geese was founded by Faumuina Felolini Maria Tafuna'i. Since 2015, Faumuina has developed Wayfinding models to solve social and economic problems under the guidance of Hoturoa. After more than 20 years in journalism, creative arts
and development and working with the likes of the Oxfam, UN Women and UNDP, she could see the mainstream strategy frameworks were rigid, flawed, and resulted in poor outcomes. Having spent more than a decade as an ocean voyager on traditional waka hourua, she knew the invaluable nature of navigators' wayfinding approach and their unique leadership. Uniting her voyaging and professional worlds, it became clear to Faumuina that so much of what wayfinding offered, was what was lacking from these frameworks.
Faumuina has recruited some of Aotearoa's sharpest facilitators, leaders and voyagers to help guide her vision of taking knowledge from Pacific ancestors and returning it to those who belong to this amazing region. For this team, wayfinding is not a metaphor, it is a way of seeing and understanding the world. It is also a way to lead your life.
MEET OUR TALENTED CREW
A WAKA OF LEADERS AND FACILITATORS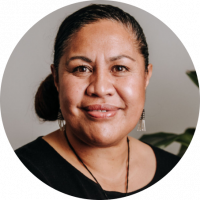 Faumuina Felolini Maria Tafuna'i
Founder & CEO
Hailing from the villages of Mulifanua and Asaga in Samoa, Faumuina is the daughter of Ifopo Lopeti and Nivaga. She carries the Tafuna'i from her late husband Patrick, and continues to guide their son Oliver. She is an award-winning journalist and ocean voyager. Guided by navigator Hoturoa Barclay-Kerr, Faumuina created a wayfinding system that takes the wisdom of celestial navigation and voyaging and transposes it into a strategic framework. She has developed and run programmes for Oxfam, UN Women and UNDP. She is also an Edmund Hillary Fellow.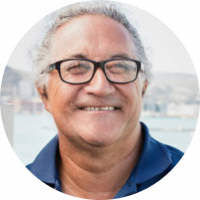 Hoturoa Barclay-Kerr (ONZM)
Advisor & Navigator
Hoturoa and his wife, Kim, have five children and three mokopuna, and are based in the Waikato. He is a master voyager and navigator. Hoturoa and Kim are co-founders of Te Toki Voyaging Trust, overseeing their programmes in waka hourua, waka ama and wayfinding. He co-authored the book 'Wayfinding Leadership: Ground-breaking Wisdom for Developing Leaders'. In 2019, he was co-Chair of the National Coordinating Committee for Tuia 250. In 2020, he was awarded the New Zealand Order of Merit for services to Māori and heritage commemoration.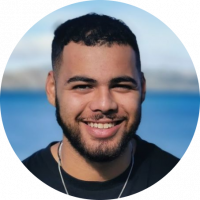 Lopeti Sumner
Facilitator & Future CFO
Lopeti is the youngest member of Flying Geese. At 20, he is currently on scholarship to become a financial advisor. He was the Pacific Prefect at St Bedes College. There he was also the leader of the Poly Fest Group. He is the Lead facilitator for WERO: Wayfinding for Entrepreneurship for Māori and Pasifika secondary students. He was a facilitator for the Wayfinding for Life programme in 2020-2021. Lopeti is also a member of Junior Black Sox softball team, and Canterbury Mens' softball team.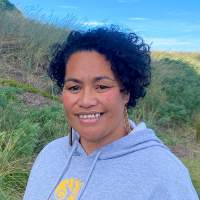 Selau Ifopo
Chief of Operations & Facilitator
Selau is the fourth child of Ifopo Lopeti and Nivaga Ifopo from Samoa. She and partner Ioka are parents to a blended family of 15 children. Selau spent a decade with Work and Income NZ, then Ministry of Social Development, where she founded sPacifically Pacific – a careers and leadership expo that is now an annual event in Canterbury. She then set up a Trust focussed on mentoring Māori and Pasifika High School students. She has held recruitment and community engagement roles in Corrections, Stats NZ, and Ara Polytechnic.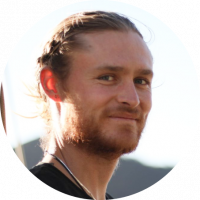 Sam Totten
Head of Publishing & Facilitator
Sam was raised in the alpine deserts of Utah. He is the grandson of a maritime engineer, airforce pilot, drug and alcohol counsellor, and folk singer, with bloodlines to Scotland and Germany. Inspired by food sovereignty movements, he moved to Hawaii where he worked on farms and learned to sail. After his first ocean crossing from Fiji to Aotearoa, he met Faumuina sailing Haunui waka with Te Toki Voyaging Trust. With a background in charitable trusts, Sam serves Flying Geese in its publishing endeavours, grant writing and facilitation.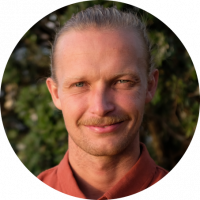 Fraser McConnell
Head of Technology & Facilitator
Fraser is of Scottish ancestry. From a young age, he learned to harness his intellect and focus through Taekwondo and outdoor adventure which laid the foundation for his purpose-driven mahi. In 2016, he co-founded Squawk Squad (www.squawksquad.co.nz), an organization combining tech with conservation to protect Aotearoa's native bird life. Through these achievements and more, Fraser was named a Young New Zealander of the Year finalist in 2020. He met Faumuina through the Edmund Hillary Fellowship. He serves as Head of Tech for Flying Geese.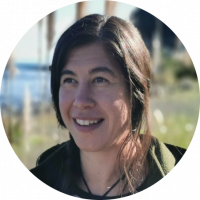 Jodi Goodwin
Facilitator
Jodi lives on Te Tai Poutini where she explores her relationship with rongoa and kaitiakitanga. She is the daughter of two entrepreneurs from Murchison (Tasman Region) with whakapapa to Aotearoa, England, and Ireland. After many experiences overseas, including a yoga teacher training in India, she returned to build waka hourua, which she later helped sail to Tahiti and Hawaii. Her passion for waka connected her to Te Toki Voyaging Trust and Faumuina when they sailed together in 2019. Jodi serves in the facilitation crew.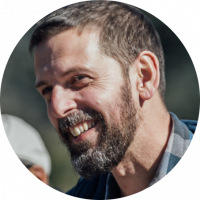 Tim Pare
Advisor & Facilitator
Though too tall to be a hobbit, Tim was raised in the rolling countryside of England. He studied women's and cultural studies, which led to social services and education work. Tim and his wife Yasmene founded a charity in Sri Lanka (www.tealeaftrust.com) that supports young people of the tea estates to gain an education and overcome the colonial legacy of systemic racism. He joined Flying Geese after meeting Faumuina through the Edmund Hillary Fellowship. He lives in Ōtepōti, Dunedin where he serves in his favourite role as father to Hadeeqa.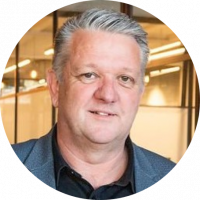 Danny Kearns
Facilitator
Danny is of Ngāi Tahu (Ngāti Irakehu) descent, and was born in Otautahi, Christchurch, where he still lives. Danny has a long background in business, having worked in both large and small organisations. He has worked with many Māori and Pasifika businesses, helping them with their online presence including web design, social media marketing, and design. He is passionate about helping people reach their potential, and about equality and equity for those who are disadvantaged by systemic racism.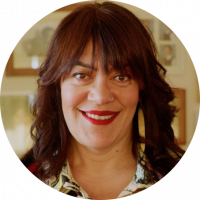 Tusiata Avia
Facilitator
Tusiata is a master poet, playwright and performer of Samoan and Palagi descent born and raised based in Ōtautahi, Christchurch. In 2020, she was appointed a Member of the New Zealand Order of Merit for her services to poetry and the arts. In the same year, she was named the Arts Foundation Poet Laureate. Her one-woman show Wild Dogs Under my Skirt has been performed to audiences around the world. Tusiata has a passion to help young people discover the joy of words and creativity.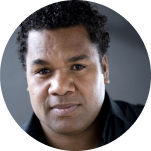 Marisiale Tunoka
Facilitator
Marisiale (Fiji) has worked extensively throughout New Zealand on various theatre-in-school initiatives. He has been an actor for several years working extensively in Auckland and Dunedin's Fortune Theatre. Recently he spent four years working in Auckland being instrumental in the creation and delivery of the ASB financial literacy initiative GetWise, creating adverts with Air New Zealand and other local Kiwi shows. He has taught in schools in Dunedin. He is also a member of the Dunedin Pacific Creatives Network.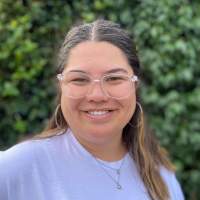 Leanna Pardoe
Co-host & WERO Team
Leanna is Ngāti Porou and Ngā Puhi and grew up in Tolaga Bay surrounded by whānau, countryside, and beaches. Last year she started work with Te Pūtahitanga o Te Waipounamu where she met Faumuina and first encountered the Wayfinding model. Building upon studies from University of Otago and mahi in the Tairawhiti region, Leanna works in her current role as data analyst for the whānau ora commissioning agency for the whole south island. She comes to our WERO team with a desire to open the doors for rangatahi into more technical work that they might not have considered before.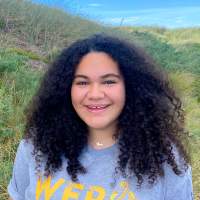 Lasela Sumner
WERO Team
Sela has whakapapa lines to Samoa and Scotland and was born and bred in Ōtautahi. Daughter to Selau and niece to Faumuina, she is one of 15 siblings in a blended whānau. She played netball, basketball, and volleyball in high school and graduated as head girl in 2020. She comes to our WERO team passionate about Māori and Pacifica rangatahi realising their full potential. Sela lives in Ōtautahi Christchurch where she plans to study and earn her teaching degree.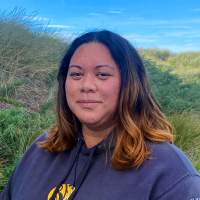 Felicia Whiu
WERO Coach
Felicia hails from the Horowhenua/Manawatu and Pēwhairangi regions of Te Ika a Māui and is now based in Ōtautahi. Motivated by improving her hauora and wellbeing, she co-founded Fe and T consultancy alongside her mum Tracey. They support small to medium businesses in their startup, operations, and growth phases by providing support where needed. Felicia arrives to our WERO team passionate about supporting whānau as they step into their tino rangatiratanga through business endeavours, in a way that is relatable and culturally relevant.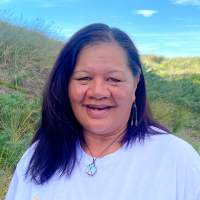 Tracey Waho-Blayney
WERO Coach
Throughout the years her career has continued to develop with special focus on project management, change management, governance and secretarial mahi. After dedicating many years to working for Ngāi Tahu, Erickson Australia, Massey University, Christchurch City Council and Lincoln University, Tracey went on to establish Fe & T Consultancy with her daughter, Felicia. Tracey joined the early digital revolution in 1994 through studying and then teaching at EIT Institute in Hastings. Tracey aspires to a world where rangatahi have more freedom to develop their ideas.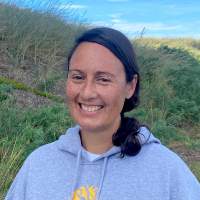 Janyne (Dottie) Morrison
WERO Coach
Dottie is Ngāi Tahu and hails from Arahura. Dottie arrives to our WERO team as a seasoned coach with a kete full of different skills such as strengths-based coaching and a passion for building belief, especially among rangatahi. With a masters in human resources, she has worked extensively for her iwi, Ngāi Tahu, building their capability plan with special focus on developing pathways to grow their people from primary school through to adulthood. Dottie is a self-employed coach and collaborates with other like-minded people builders and change makers. She is a partner in Tū Māia and coaches Whānau Ora start-ups and social enterprises.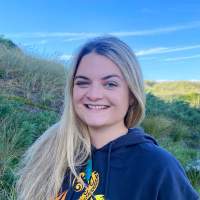 Caitlin Sowden
WERO Coach
Caitlin grew up in Paekakariki with whakapapa connections to Kāi Tahu, Te Ātiawa o Te Waipounamu, England, Ireland, and Scotland. Raised by a mum dedicated to social work, Caitlin learned the value of service and connection from a young age. Through her experience working as a private secretary for the Ministry of Social Development, Caitlin learned to navigate the complexity of their systems. Her time in the capital ignited a passion for authentic story-telling, and prioritising the people and the aroha behind the mahi. She currently resides in Ōtaki where she studies Te Reo Māori full time at Te Wānanga o Raukawa.